Education
WPC's Center for Education conducts objective research and makes practical policy recommendations to improve Washington State's ability to carry out its paramount duty to educate every child within its borders.
What's New
Governor Gregoire is promoting legislation she says will qualify Washington to receive up to $250 million from President Obama's Race to the Top education grant program. The requirements of Race to the Top are based on years of experience in the states and high-quality research on proven policies that raise academic outcomes for students. Olympia lawmakers lag far behind their colleagues in other states in adopting these reforms, which is why Washington does not currently qualify for any Race to the Top funding.
Olympia Newswire published this op-ed on February 26, 2010.
A few weeks ago, nearly 400 students rallied at the state capital to support Washington's higher education institutions. With a passionate campaign to end any further budget cuts and to protect financial aid for lower-income families, the students made their point clear: it is time to restructure the funding of our colleges and universities.
Manual High School in Denver was in such trouble that district officials closed the school. At the time, students at Manual had the lowest test scores of any public school in Colorado.
Date:
Friday, February 5th, 2010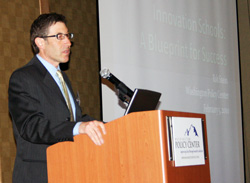 WPC's Center for Education welcomed Rob Stein, Principal of Manual High School (Denver, CO) as our keynote speaker. Dr. Stein discussed both the Innovation Schools Act as well as his experiences with the newly passed legislation. WPC views Innovation Schools as a model to reform education in our state. Dr. Stein was introduced by Manual High graduate and former Seattle Mayor Norman Rice.