Education
WPC's Center for Education conducts objective research and makes practical policy recommendations to improve Washington State's ability to carry out its paramount duty to educate every child within its borders.
About the Center for Education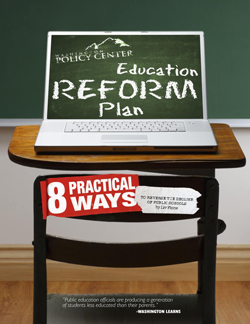 Washington Policy Center's key recommendations for improving public education:
Put the Principal in charge of the actual dollars in his budget, of the hiring and firing of his staff and of his educational program
Give parents choices among public schools
Let teachers teach
Double the pay of the best teachers
Replace the WASL
Create no-excuses schools with clear lines of accountability for performance
Transparency—put school budgets and teacher qualifications online
Make the Superintendent of Public Instruction an appointed office
For more information on these recommendations, see WPC's education reform plan, Eight Practical Ways to Improve Public Schools.
WPC Study: Washington Policy Center's Public School Accountability Index.
WPC Study: An Option for Learning: An Assessment of Student Achievement in Charter Public Schools.
WPC Study: What We Can Learn from Baltimore Public Schools. CEO Dr. Andres Alonso has turned around one of the worst school systems in the country by changing the culture of the schools, streamlining the district to serve the schools, giving flexibility and budget authority to great school principals and teachers, and increasing parent choice. He has used Fair Student Funding (also known as Student Centered Finance, Weighted Student Funding) to shift control over spending from the district to the schools, giving principals control over 81% of their school budgets in actual dollars. This allows great school leaders to fund the positions and programs that have the greatest positive impact on student learning.
Crosscut op-ed: What can we learn from the struggles of Baltimore schools?
February 2011 Event: Keynote address by Dr. Andres Alonso. Dr. Alonso's reforms have worked for students. Test scores of students on the Maryland State Assessment were up across all grades and groups in 2008-9, building on the record gains of 2007-8. Special education students are advancing at an even greater rate than general education students. City Schools' 2008-9 dropout rate, 6.2 percent, is down 36 percent since
2006-07, a record low. Putting great principals in charge of their schools works to improve the quality of education for students.
WPC Study: Innovation Schools Raise Learning Outcomes for Students — Colorado law allows school leaders to obtain waivers from the heaviest state regulations and the most restrictive collective bargaining agreements to offer new, creative teaching models for delivering high-quality education to school children. The Innovation School model is a promising model for Washington state.
WPC Op-ed Column: How the Innovation Model allows principals to raise student achievement — Manual High School Provides Blueprint for Student Success.
February 2010 Event: Keynote address by Rob Stein, principal of Manual High. Denver's Manual High School was closed in 2006 as the lowest performing school in the state. In 2007, Principal Rob Stein reopened Manual High. Using budget and staffing tools allowed by Colorado's Innovation Schools Act of of 2008, Principal Stein took Manual High from complete failure to the top-performing Title I school in Colorado. Even though the Denver School District receives well over $8000 per Manual High pupil, Principal Stein achieved this turnaround by controlling only $4700 per pupil. (Watch Stein's address here, and check out his PowerPoint presentation here.)
January 2009 Event: Keynote address by Professor Bill Ouchi, Anderson School of Management, UCLA, expert in organizational design and public school finance and management. Professor Ouchi's research shows that when principals are allowed to control their budgets in actual dollars, student achievement improves dramatically. His book The Secret of TSL (Total Student Load): The Revolutionary Discovery that Raises School Performance (Simon and Schuster 2009), shows how principals able to design their educational program and determine school staffing needs are able to reduce student loads on high school teachers. (Watch Prof. Ouchi's address here.)
WPC Op-ed Columns
So Where Does All That Money Go? By Paul Guppy
Governor makes principals use 'Dance of the Lemons' By Liv Finne
WPC Studies
Just the Facts on Washington Public Schools
Just the Facts on Edmonds Public Schools
Overview of the Seattle School District Collective Bargaining Agreement
How to End the Math and Science Teacher Shortage
Early Learning Proposals in Washington State
Learning Online: An Assessment of Public Online Education Programs
Media Interview
Learning for Life: Interview with Liv Finne, critic of state early learning education plan (video)
Blog Posts
Washington Policy Center research and possible Seattle teachers strike
Seattle and other school districts lack fiscal discipline
Schools overhire when times are good and lay off when times are bad