1240 Follow-Up Project
To ensure the promise of Initiative 1240/the charter school initiative that was passed by voters in 2012 is fulfilled, Washington Policy Center is conducting a multi-year follow-up and oversight project. The purpose of this project is to monitor and analyze implementation of Initiative 1240 and to effectively communicate the findings, thus ensuring the highest possibility of success for new charter schools and the students who will attend them.
What's New
Click below to view our PDF version of our Summer 2014 issue of Viewpoint, WPC's quarterly magazine!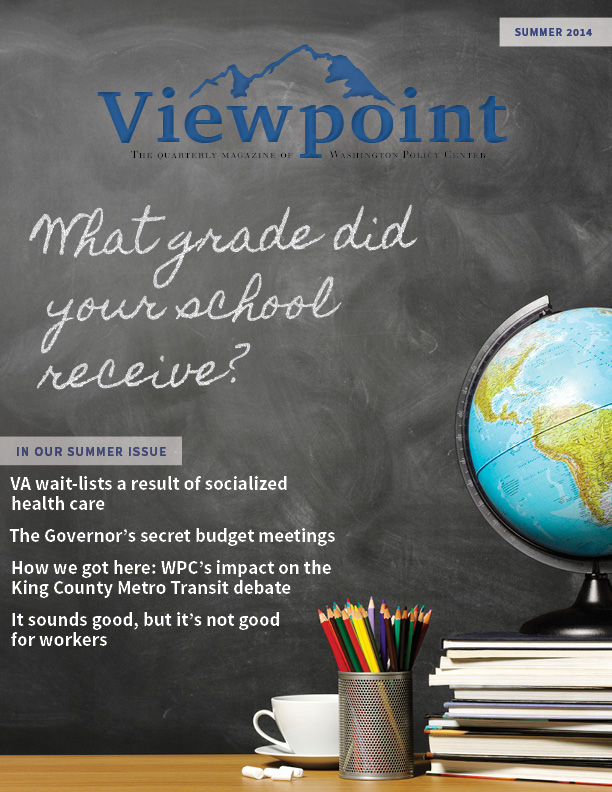 Date:
Tuesday, January 6th, 2015
Place:
3 Rivers Convention Center
7016 W Grandridge Blvd

Join Washington Policy Center again for our annual Statewide Solutions Summit Policy Conference coming this January 6th, 2015 in Tri-Cities!
The half-day conference and lunch will cover the following topics:
Date:
Wednesday, January 7th, 2015
Place:
Hyatt Regency Bellevue
900 Bellevue Way NE

Join Washington Policy Center again for our annual Solutions Summit Policy Conference coming this January 7th, 2015 in Bellevue before the beginning of the important 2015 Legislative Session covering the topics: