The Impact of National Health Care Reform on Washington State
Introduction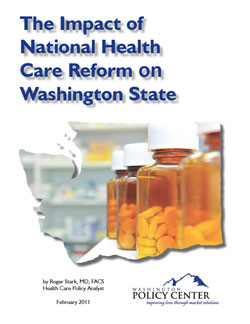 After fourteen months of debate, and with narrow partisan support and substantial bipartisan opposition in Congress, President Obama signed major health care reform legislation into law. Polls consistently show the Patient Protection and Affordable Care Act is unpopular with the public. At no point in the history of the United States has such broad, wide-sweeping social legislation become law by such a slim political margin.
From now on, the federal government will manage the health care of all Washingtonians. The national health law will affect every person in Washington state, but will have specific consequences for various groups. This Policy Brief examines the new law's impact on businesses, Medicare and Medicaid, young adults and providers in Washington state.
Key Findings
Employers faced with escalating costs and more government regulations will be forced to make an economic decision regarding company-provided health benefits for workers.


Every employer and employee will be subject to increased government regulation, higher taxes and fewer personal choices in health care.


Ultimately Medicare and Medicaid patients in Washington state and across the country will have less access to health care, less input into their medical decisions and more dependence upon the government.


Young adults will have a strong incentive to wait until they are ill or in an accident before buying insurance.


18- to 34-year-olds are already facing an unfunded liability burden from Social Security and Medicare of more than $100 trillion. The new federal health care law will continue to add to this liability, and will adversely affect the younger generation's standard of living and quality of life.


Decreasing Medicare reimbursements and expanding the number of Medicaid patients while decreasing the number of providers will compound the problem of finding a doctor for patients in these government programs.