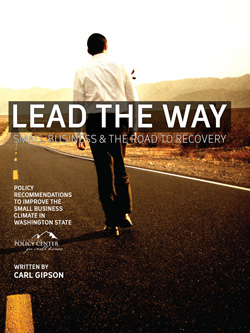 [1]In late 2009, economists began predicting the reemergence of the American economy. The Dow had regained some of its wealth lost in the aftermath of the financial market meltdown of 2008 and the credit markets were beginning to thaw.

In fact, the hit to the financial markets was so bad that the Dow lost approximately 53% of its value in 18 months (October 2007 to March 2009). Similarly, credit markets froze up once the large financial firms, such as Lehman Brothers, were allowed to fail. As a result, credit and loan opportunities for small businesses dried up. Almost 18 months after the collapse of the financial markets, only now are small businesses being considered for borrowing or credit.

However, the unemployment rate continues to climb, both nationally and in Washington state. The latest numbers put the national jobless rate at 10% and Washington's at 9.2%. Both rates are almost double the unemployment rate from 18 months prior. And while parts of the economy seem to be turning up, because the unemployment rate is a lagging economic indicator, the rate will continue to worsen for the next several months. In fact, the national rate is expected to peak at around 11%.
Read the full Policy Brief here [1]
Sticky at top for Transportation promo page: