Washington Policy Center has long warned that a high minimum wage reduces job opportunities and increases the cost of living. The economics of it is simple. The minimum wage is a price control that requires employers to pay workers a higher hourly wage. That means they can afford to hire fewer workers, or they pay the inflated wages and pass the increased costs onto the customer, or a combination of both.
This is what just happened in San Francisco. [1] The famed $5 dollar foot-long sandwich deal at Subway is no more in the so-called "City That Knows How." Why? Because the San Francisco City Council passed a law pushing the minimum wage to $10.24 as of January 1. Council members think they are generously using their official position to get more money for low-income workers, but what they are really doing is making it harder to find a job in their city and increasing the cost of living for everyone.
The local NBC news channel [2] reports: "Apparently, the city's new minimum wage, raised to $10.24 as of Jan. 1, make $5 footlongs an impossible business model."
Customers hoping to enjoy one of the $5 sandwiches are instead greeted with this sign: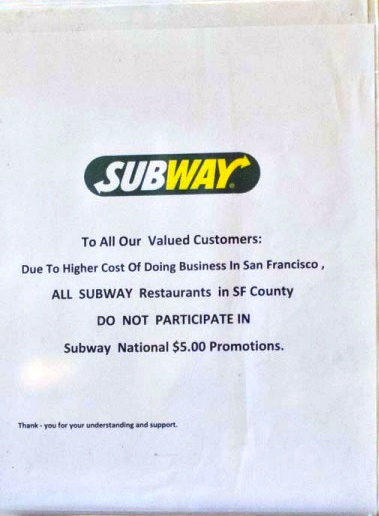 It seems San Francisco is the City That Knows How to increase costs for consumers. If the high minimum wage can kill a deli sandwich, imagine what it does to people's jobs.
Washington State's minimum wage is $9.04 an hour, the highest in the nation. Get your $5 Footlong while you can.
Sticky at top for Transportation promo page: