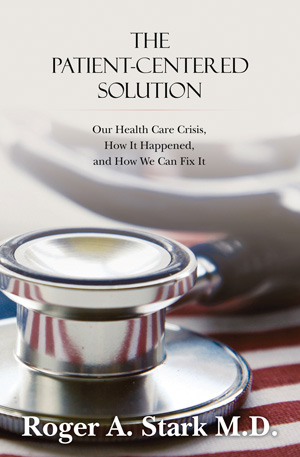 In the second edition to Dr. Roger Stark's acclaimed 2007 book Health Care in the U.S. Today: Problems and Solutions, he cuts through the political rhetoric and offers practical solutions to the problems we now face in health care delivery.
Virtually everyone in this country has the opportunity to purchase food, shelter and clothing. Why should the purchase of health care be more complex than obtaining these necessities?
Most Americans would agree that our health care delivery system is in crisis. In this easily readable book, Dr. Stark provides a brief history of how we arrived at this point, the underlying cause of the crisis, the recent sweeping federal health care reform law, and the options that are now before us. In a logical fashion, he outlines the solutions to maintain the high standard of care we enjoy in the United States.
To arrange a speaking engagement or interview with Dr. Stark, contact John Barnes at 206-937-9691 or jbarnes [at] washingtonpolicy [dot] org.



Praise for The Patient-Centered Solution:
"All Americans agree our health care system is badly in need of reform. In this brief, easily readable book, Dr. Stark explains the history of America's health care problems and describes the repeated failures of top-down, government-centered reform efforts. He also presents clear, commonsense solutions that would allow patients to retake control of their health care and, working with their doctors, decide how their own health care dollars should be spent."
- Former Florida Gov. Jeb Bush
"Dr. Stark's cogent analysis of America's health care challenges takes the thoughtful, incisive approach of a surgeon and combines it with the well-researched arguments of an experienced public policy analyst. A most worthwhile read for anyone interested in both a diagnosis of and prescription for our nation's health care ills."
- Washington State Attorney General Rob McKenna

"As a Member of Congress, I am always looking for practical solutions to the problems our country faces. Dr. Stark outlines the history of our health care crisis and describes real solutions that give patients control of their health care decisions and dollars. His book is another example of the excellent work the WPC produces."
- Congresswoman Cathy McMorris Rodgers (5th District, Washington state)

"Roger Stark thoroughly captures the story of health care in America in a studious but highly readable style. His outstanding book will stimulate understanding and concrete solutions to one of the most critical issues of our time. It is essential reading for all who care about sustaining quality health care in the United States."
- Former Congressman George R. Nethercutt, Jr. (5th District, Washington state)

"Dr. Stark's book is a treasure, explaining accurately, clearly, and concisely how we have reached the current state of health care in America today and offering common sense solutions to the problems we face. His years of experience in the health care system as a cardiac surgeon give him a valuable perspective on what works and what doesn't work in our health sector. He offers a concise explanation of the problems we face, the history behind how we got here, what other countries have done to their health systems, and solutions that make ethical and economic sense for America. This second edition also explains the terrible damage that Obamacare will do to what has been the finest health care in the world. No matter how much you know about health care in America, there is much to be learned here. Dr. Stark shines a beacon of light on the right path to replace Obamacare with sensible policies that will work for America."
- Grace-Marie Turner, President, Galen Institute