School Spending is up $789 Million
The Washington Education Association (WEA) has called for a "Day of Action" rally in Olympia on November 28th, the first day of the Special Session of the Legislature. Teachers and public school employees are being urged to leave their classrooms to attend this rally and deliver a "budget cuts hurt kids" message to legislators. A Week of Action is planned for this week (11/14), with teachers across the state wearing "These Cuts Hurt" buttons, and the WEA placing editorials and ads in newspapers across the state claiming that school budgets have been cut.
Despite cries about hurting kids, the state education budget has not been cut. Education spending has increased by $789 million compared to the last budget, rising from $12.9 billion in the 2009-11 budget to $13.7 in the 2011-13 budget.
This spending boost includes teacher salary step increases, pension and benefit increases, student enrollment increases, $62.2 million in new programs, $92 million for full-day kindergarten, and the start-up costs for spending $300 million to implement a new test for Washington's students. Reductions of 3% and 1.9% to the highest paid administrators and teachers, respectively, were included in the 2011-13 budget, but many districts were able to avoid imposing these reductions and reduced other areas of local spending instead.
In 2010-11, schools added an additional 235 employees to school payrolls, increasing from 101,675 employees in 2009-10 to 101,910 employees in 2010-11.
Here is a summary, based on data from the Superintendent of Public Instruction, the Legislative Evaluation and Accountability Program Committee, and the State Board of Education.
1. Public School Staffing
Number of full-time-equivalent (FTE) school employees: 101,910
Number of FTE classroom teachers: 48,397
Number of students per classroom teacher: 20.5
Share of employees who are classroom teachers: 47%
2. Education Spending
Total education spending in 2010-11 (budgeted) dollars: $10.25 billion
Share of each education dollar reaching the classroom: 59 cents
Per pupil spending in operating costs only: $10,326
Per pupil spending in operating and capital costs (for 2009-10): $12,089
Average teacher's pay and benefits: $79,814. Base and other salary of $61,396, plus $18,418 in benefits and pension
Average district administrator pay and benefits: $127,506. Base and other salary of $102,828, plus $24,678 in benefits and pension
Average superintendent pay and benefits: $161,856. Base and other salary of $130,656, plus $31,200 in benefits and pension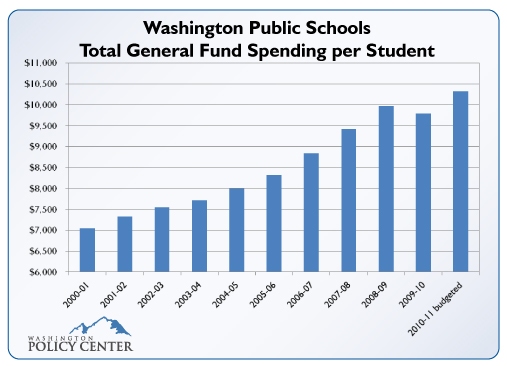 In Washington 74,000 students attend 228 schools ranked as the worst schools by the State Board of Education's Public School Accountability Index, while only 28,650 students attend 81 schools ranked as the best schools on the Index.
Simply spending more money does not raise student achievement. State leaders could improve schools by passing legislation that:
Lets principals fire bad teachers;
Lets students attend a charter school;
Puts principals in charge of their school budgets.
Detailed research and ideas for reform are available in Washington Policy Center's study, Eight Practical Ways to Reverse the Decline of Public Schools.