2013 Health Care and Small Business dual-conference event
Date:
Thursday, June 27th, 2013
Place:
SeaTac Hilton
17620 Pacific Highway South
WPC's 11th Annual Health Care Conference
and biennial Small Business Conference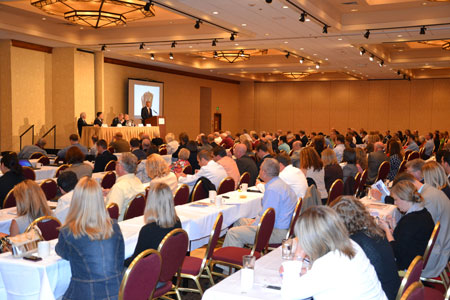 WPC's 11th annual Health Care and biennial statewide Small Business conference events were held Thursday, June 27th in SeaTac. In our first-ever dual conference event, our exciting lineup addressed the current state of health care reform and improving Washington's small business climate.
In the morning, panels of health care experts and policymakers discussed the upcoming implementation of Obamacare. A keynote lunch address by Forbes health care writer and MSNBC and Fox News analyst Avik Roy addressed solutions to our health care crisis. In the afternoon during the statewide small business conference portion, business experts spoke to Washington's business climate and how health care will impact small businesses.
---
Slide Presentations
Medicaid's Changing Landscape, MaryAnne Lindeblad
50 Vetoes: How states can stop the Obama health care law, Michael Cannon
The Conservative Case for Universal Coverage, Avik Roy
Health Care Reform: Health Plans Overview, Will Hammond
How the Affordable Care Act Will Impact Your Taxes, Richard DeGroot
---
Small Business Conference Video Remarks
by Congresswoman Jaime Herrera Beutler
---
Health Care Conference Presenting Sponsor
Health Care Conference Presenters
Providence Health & Services
Washington State Medical Association
Health Care Conference Benefactors

Bayer
First Choice Health
Eli Lilly and Company
The Partners Group
Physicians Insurance A Mutual Company
Sanofi
Health Care Conference Supporters

Alliant Employee Benefits
Johnson & Johnson
MedImmune
Proliance Surgeons
Women of Washington
Small Business Conference Patrons
Berntson Porter & Company
Columbia Bank
Regence BlueShield
Washington Trust Bank
Small Business Conference Patrons
Associated Builders and Contractors
National Federation of Independent Business
The Partners Group
State Farm
Vancouver Business Journal
Women of Washington
Conference Co-presenters

Associated Builders and Contractors
Building Industry Association of Washington
Discovery Institute
East King County Chambers of Commerce Legislative Coalition
Greater Spokane Incorporated
Institute for Justice
National Electric Contractors Association
National Federation of Independent Business
Rental Housing Association
Seattle CityClub
Washington Association of Health Underwriters
Washington Food Industry Association
Washington Retail Association
Washington State Farm Bureau
Washington State Microenterprise Association
Wenatchee Valley Chamber of Commerce