Regional Small Business Forums
Date:
Friday, December 14th, 2012
Place:
Pacific Grill Events Center
1530 Pacific Avenue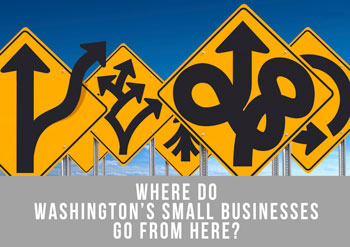 Join Washington Policy Center to help identify and prioritize the issues that will determine the future of Washington's small business climate!
WPC's Center for Small Business is hosting their biennial small business forums throughout the state. WPC policy experts and business leaders in your community will gather to discuss the important issues facing businesses. This is your opportunity to meet with policymakers, business leaders and elected officials to share the challenges facing your business, develop solutions and to look ahead to what's in store for 2013 with a new governor and legislature.
North Central Washington: Tsillan Cellars - September 13, 12:00 - 1:30
Spokane: The Lincoln Center - September 18, 12:00 - 1:30
Whatcom County: Bellingham Sportsplex - October 18, 2:00 - 3:30 (Part of Northwest Business Expo)
Skagit County: Anacortes Lutheran Church - November 8, 11:30 - 1:00
Tri-Cities: The Country Gentleman, Kennewick - November 9, 12:00 - 1:30
Yakima: Red Lion Inn - November 12, 11:30 - 1:00
Clark County: Camas Meadows Golf Club - November 15, 12:00 - 1:30
Pierce County: Pacific Grill Events Center - December 14, 12:00 - 1:30
Statewide Co-sponsors:
Berntson Porter & Company
Columbia Bank
National Federation of Independent Business
NCM Demolition + Remediation
Silver Cloud Inns & Hotels
State Farm
Verizon
Walmart
Washington Trust Bank
Statewide Co-presenters:
Associated Builders & Contractors
Association of Washington Business
Association of Washington State Hispanic Chambers of Commerce
Building Industry Association of Washington
Independent Business Association
Recreational Gaming Association of Washington
Washington REALTORS
Washington State Farm Bureau
Washington State Medical Association
Washington State Microenterprise Association
Washington Technology Industry Association