Without reform, the ferry system will continue to frustrate passengers
Many ferry passengers have known for some time that the ferry system in our state is broken. Some state leaders have continuously fought to reform the troubled agency to restore the public trust, only to be met with fierce resistance from powerful labor unions and well-compensated upper management. In a recent Seattle Times article, state lawmakers are again calling for reform at the Washington State Ferries, criticizing the mismanagement this summer that has left passengers stranded and frustrated. This summer, ferry travelers were:
stranded in the Puget Sound when a ferry broke down mid-sailing;
allowed to damage their vehicles on the new $144 million ferry despite the state's knowledge of design flaws on ramps;
delayed when a replacement ferry that was brought into service malfunctioned;
allowed to overload boats far beyond safety regulations, requiring a return trip to shore; and,
denied entry onto boats that sailed below passenger capacity due to "communication problems."
Problems at the Washington State Ferries continue to cause delays, missed sailings, and traveler frustration. Just this morning, the Washington State Ferries cancelled four runs on the Port Townsend to Coupeville route because of "maintenance issues."
But the problems extend far beyond this summer. Over the last few years, many travelers were left stranded because the ferry system "ran out of workers." Last summer, state officials cancelled dozens of scheduled ferry runs on three busy routes due to union rules governing employee vacations and medical leave.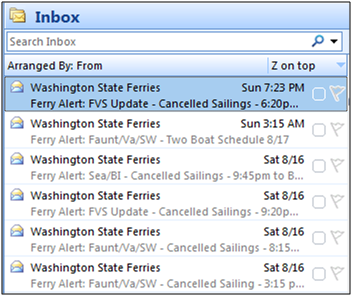 The public doesn't need to look any farther than their e-mail inbox and the award winning 2010 KING-TV investigative series "Waste on the Water" to understand that without true reform, the ferry system will continue to drain resources and frustrate passengers.
Washington Policy Center has long recommended state officials reform the ferry system to rebuild trust and better serve the traveling public. Recommendations include greater private involvement by utilizing public-private partnerships and allowing private operators to offer competitive options for passengers.WPC's full list of recommendations is available here.