Will San Juan's 'Best Available Science' Get Better?
Two weeks ago, we noted some flaws in San Juan County's "Best Available Science" document for their proposed Critical Areas Ordinance. The document misquoted the science on sea level rise and temperature increases, projecting impacts much higher than the data indicate.
Upon seeing our critique, a San Juan County planner called and we had a good discussion about how to address the concerns I raised.
First, I noted that the study on sea level rise cited in the San Juan report did not predict 50 inches of increase, as was reported, but 13 inches. The planner noted that the author, Phil Mote, writes in the study: "For decisions with long timelines and low risk tolerance, such as coastal development and public infrastructure, users should consider low-probability high-impact estimates" – like the 50 inches projection. This, however, is not science but his own risk tolerance. Indeed, the sentence before that reads "The application of SLR estimates in decision making will depend on location, time frame, and risk tolerance."
The purpose of presenting the best available science to policymakers is to allow them to apply their risk tolerance to the science rather than substituting Mote's risk tolerance for that of a democratically elected body. The county planner agreed in our discussion to include the accurate projection and allow for the entire range of possibilities.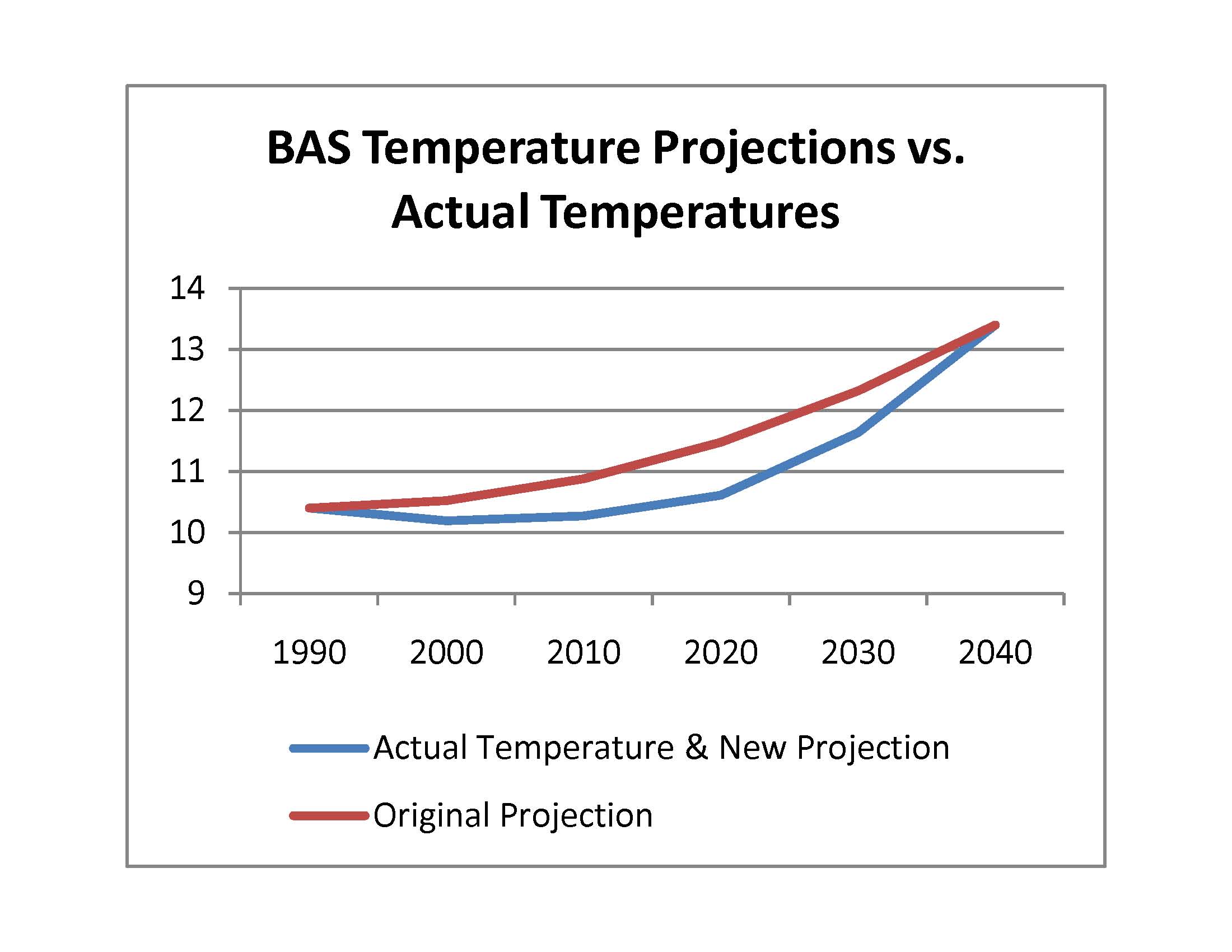 Second, we noted that despite San Juan County's projections that temperatures would increase by an average of 0.6 degrees per decade from 1990 to 2040, temperatures had actually decreased slightly during the first 20 years of that period. Using the Olga temperature station on Orcas Island, the only temperature station actually collecting data in the San Juans, temperature fell from an average of 10.4 degrees C to 10.27 degrees C from 1990 to 2010.
The county planner rightly noted that temperatures don't increase linearly, but go up exponentially as atmospheric concentrations of carbon dioxide increase. Under this scenario, we are 0.6 degrees behind the projected increase. This indicates that focusing on the highest impact projections is not appropriate since we are running significantly behind the baseline projections. To catch up, temperature increases will have to accelerate significantly.
The county planner agreed to include the full range of projections for sea level rise so the county planners can determine what the appropriate level of risk tolerance is given all of the county's other priorities. If the BAS document highlights Mote's suggestion that the county look at the high end, I hope county planners also make it clear that this suggestion is not science but represents Mote's personal assessment. Since Mote's suggestion is not science, it would be better to leave it out of a "scientific" document altogether.
We'll follow up when the revised document is released.