Two simple ways to fix the SR-520 cost-overrun mess
Washington Transportation Secretary Lynn Peterson recently admitted the SR-520 Bridge Project she manages is $420 million over budget. Cost overruns have already consumed the $250 million contingency fund, and Secretary Peterson says she needs $170 million more to keep the project afloat. Peterson said "the good news" is she wants to get the $170 million from increased borrowing and by taking money from road improvements in other communities.
That's pretty far from good news.
More debt would be paid back by taking more toll money from drivers. But issuing debt would also lead to other problems not addressed by the Secretary.
State transportation officials want to impose tolls on I-90 or increase in the gas tax to fund the $1.4 billion Montlake section of SR-520. Maximizing debt capacity on SR-520 would increase that pressure and limit financial options. That is not good precedent.
Secretary Peterson will likely try to get much of the money by drawing funds from many projects in communities around the state. It wouldn't be the first time communities lost money because of mis-managed projects. Lawmakers promised the public the gas tax increases in 2003 and 2005 would go to specific projects. A number of those projects have been de-funded indefinitely because cost overruns on other projects siphoned off their money.
The practice of de-funding projects put public safety at risk. For an example, state officials could end funding for every bridge replacement or seismic retrofit budgeted this biennium under the state's preservation program. Such actions would shift about $157 million to SR-520; still short of what Secretary Peterson says is needed.
Or, state leaders could cancel funding for the following regional highway improvement projects in the current 2013-15 biennium: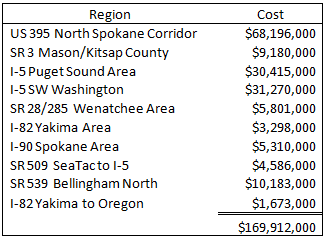 The Secretary said taxpayers will not be on hook for cost overruns. However, people in many communities may not receive the safety improvements they were promised, or they will have to pay additional tolls, either directly on SR-520 or indirectly on I-90.
It doesn't have to be this way. Lawmakers could easily enact changes that would free up enough money to pay for all cost overruns without borrowing more money or putting public safety at risk. Here are two obvious commonsense reforms:
State officials could stop charging themselves sales tax on the state's own public projects

Lawmakers require state officials to add sales tax on top of construction costs, a device that inflates the cost of building roads to shift gas tax money into the general fund to spend it on other programs. Not charging themselves sales tax on the SR-520 project alone would free up approximately $200 million, more than enough to cover current cost overruns.
Using normal market construction wages, rather than artificial prevailing wages

State officials charge themselves an artificial prevailing "minimum wage," usually equal to union-level wages in the area. Studies show imposing prevailing wages boosts total project cost by 5% to 15%. At a conservative 5%, using normal market construction wages on the SR-520 replacement bridge would save about $190 million, again more than enough to cover current cost overruns.
Commonsense policy changes like these would get the SR-520 project moving forward without sacrificing congestion relief, safety, or quality. Public officials should be wise and accountable with the billions of dollars we give them in transportation taxes. The traveling public is counting on them to keep their promise to keep road and bridge projects on time and on budget.