State Supreme Court considers $1.3 billion pension case
The State Supreme Court will hear a pension case this Thursday at 9 a.m. brought by various unions that could cost taxpayers an additional $1.3 billion at the state and local level during the 2015-17 biennium and billions more in the future. At issue is whether lawmakers had the legal right to make changes to what they thought were conditional pension benefit increases.
Here is how the Attorney General describes the controversy in his brief:
Plaintiffs claim a contract right to billions of dollars in pension enhancements---money that could otherwise fund crucial needs from education to infrastructure repairs---based on a statute that explicitly barred any such right and said that it could be repealed at any time. Their argument misstates both the facts and the law, asking this Court to ignore plain statutory language, invade core legislative powers, and cripple state and local budgets . . .

Plaintiffs also raise a parade of horribles if the Legislature is allowed to apply reservation clauses to future pension benefits. This parade is a myth. There are hundreds of pension provisions in the state's pension plans, yet only five, other than gainsharing and its replacement benefits, have reservation clauses. The Legislature has never applied a reservation to a core pension benefit, and never to a pension plan as a whole, and it is unlikely ever to do so, especially given stakeholder involvement in the political process.

By contrast, serious negative consequences would follow if the Court held that the Legislature has no power to limit the scope or duration of pension enhancements when it creates them. Faced with such a ruling, the Legislature would likely cease enacting new pension benefits, and might choose to adopt purely defined contribution (similar to 401 (k)) plans for which public employers do not pay and in which the risk of insufficient funds for retirement is borne solely by employees.
According to the State Actuary, a loss by the state would cause a $616 million hit for the state and additional $720 million for local governments in increased pension costs in 2015-17: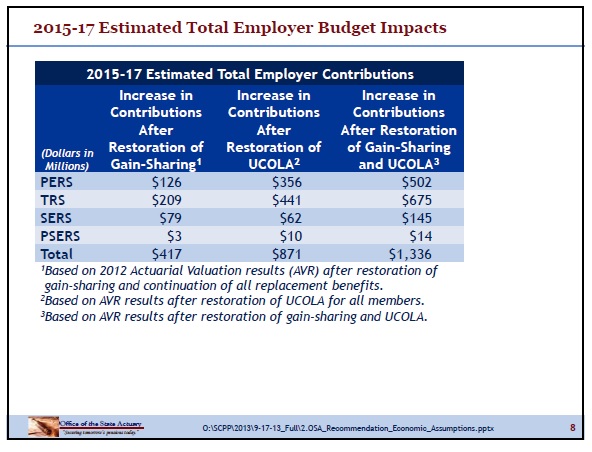 Not only that, it would drop the funded ratio for the state's most expensive pension plans to dangerously low levels increasing the unfunded liabilities: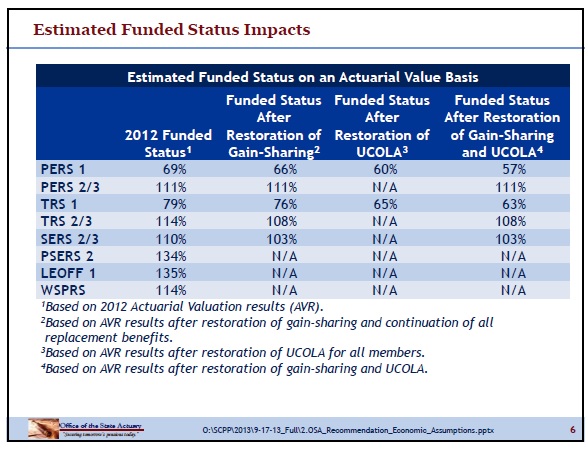 The solution to this problem according to the unions' brief, raise taxes:
The state estimates that by eliminating the UCOLA, it will save about $7.6 billion over 25 years, and $870 million in the 2011-13 biennium alone. Those savings will be reflected in lower employer contributions to Plan 1, a defined benefit plan funded by a combination of employer and employee contributions.

In repealing the UCOLA, the State is doing more than merely 'call[ing] upon public employees to share in the sacrifices required of the state citizens to preserve crucial services.' The State is placing an unfair and disproportionate burden on a small group of largely retired persons. It is doing so by eliminating a benefit for which those largely retired individuals have clearly 'paid' in the form of employment services rendered. '[S]acrifices required of the state citizens' should be shared by all citizens through use of general revenue mechanisms.
Raising taxes to provide enhanced pension benefits and for paying down a worsened unfunded liability is unlikely to go over well with taxpayers. Along with the warning from the Attorney General that a union victory could result in no future benefit increases and a move to defined contribution pensions, another option may be a constitutional amendment.
Voters in California may soon have an opportunity to consider a constitutional amendment in response to courts thwarting pension reforms. As reported by the Reason Foundation:
San Jose Mayor and pension reformer Chuck Reed, who spearheaded the successful passage of the city's Measure B pension reforms with 69 percent of the vote in favor, is launching a statewide pension reform initiative along with four other California mayors. Reed, along with San Bernardino Mayor Pat Morris, Pacific Grove Mayor Bill Kampe, Anaheim Mayor Tom Tait, and Santa Ana Mayor Miguel Pulido—all of whom are Democrats except for Tait, who is a Republican—filed the measure, known as 'The Pension Reform Act of 2014,' with the California Attorney General's Office yesterday.

The constitutional amendment would allow the state and local governments within California to reduce public employee's pension benefits on a go-forward basis. Under the measure, all benefits earned by existing employees up until the enactment of the measure, if passed, would be protected, but future, unearned benefits could be reduced.

The measure asserts that such a reform is necessary because the California legislature has not adequately addressed the issue, and that public-sector pensions should operate under the same rules as private-sector pensions.
Depending on what our State Supreme Court decides to do with Thursday's pension case, a similar constitutional amendment may be in our future.