Spokane mayor introduces no-growth budget with impressive accountability and accessibility
When Spokane Mayor David Condon ran for office last year, he promised he would approach city government differently than his predecessors. If his first budget proposal is any indication, he plans on following through on that promise.
In 2012, the City of Spokane will spend $164.5 million in its General Fund budget. The mayor says the 2013 budget will not exceed that number. Even though it is dealing with a $10 million shortfall, the mayor did not use any money from reserves to make that happen. The mayor is also forgoing an annual increase in property taxes.
Even more impressive, though, is the accessibility and accountability in the mayor's proposal. The administration produced a brand new budget format, which allows citizens to focus on the cost of providing each service and program. Furthermore, there is a visual "dashboard" for each department and division comparing growth in costs. And performance measures are also included, as shown below.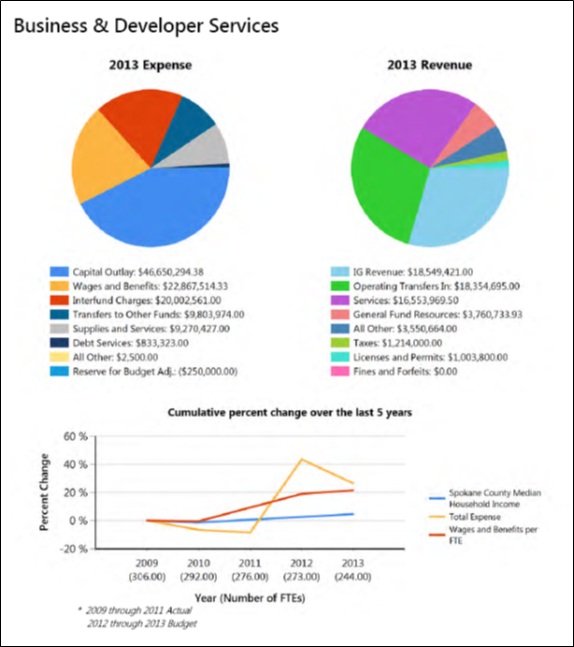 Accountability and accessibility can and will lead to a greater public understanding of the budgeting process in the City of Spokane.
And finally – the mayor's initial budget was proposed on August 1st – a full three months before it is actually due, giving the public the opportunity to fully understand the proposals.
WPC was glad to serve on the Mayor's transition team last year to offer ideas on how to improve the city's budget. We're pleased some of those recommendations are being considered in this proposal.
There will inevitably be changes made to the mayor's plan. But for supporters of responsible budgets and transparency, it appears to be a big win.