Senator McAuliffe signals support for charter schools
In an interview Thursday with Austin Jenkins on Inside Olympia, Senator Rosemary McAuliffe (D-Bothell) signaled her support for charter schools.
Sen. McAuliffe, ranking minority member of the Senate education committee and, like most Democrats in the legislature, had strongly opposed passage of Initiative 1240, the 2012 ballot measure that ended Washington's ban on charter schools. Here are her comments (at 55:31 to 55:45):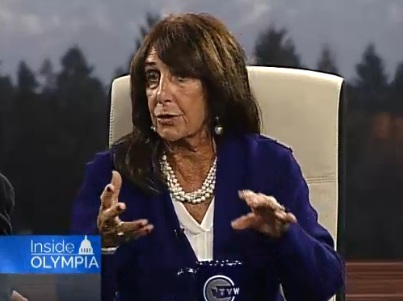 Austin Jenkins: "You were not a supporter of the charter school initiative?"
Senator McAuliffe: "I wasn't a supporter I would say 10 years ago. Ten years later, I think we are ready to go."
Austin Jenkins: "Are you optimistic this will be a successful experiment?"
Senator McAuliffe: "I think we've learned a lot in the last twenty years. Yes I do."
Sen. McAuliffe's shift indicates a softening of opposition among Olympia Democrats to allowing Washington families to send their children to a charter schools. Organized labor, meanwhile, remains strongly opposed to allowing children to attend a charter school. Top executives at the Washington Education Association supported a lawsuit in King County superior court to get the voter-passed law overturned. The court upheld the law and implementation of Initiative 1240 is moving forward.
Next Thursday the state Charter School Commission will announce which of the 19 charter school applications it received have been approved for the 2014-15 school year. Under the law, eight schools are allowed to open the first year. Spokane School District officials have already approved a charter school to serve children in their area.
This report is a part of WPC's Initiative 1240 Follow-Up Project.