Secret state budget meeting held in Lacey
The first of a series of secret meetings on the workforce costs that will be included in the next state budget took place Tuesday at the Thurston County Fairgrounds in Lacey. Union negotiators presented state officials with an initial proposal seeking advantages on behalf of some 30,000 employees working at dozens of state agencies.
Reporters were barred from the meeting, and the text of what the union proposed is not available, but sources indicate the close-door talks covered changes to seniority rules, workplace bullying, workplace behavior, work hours, overtime rules and expansion of employee rights.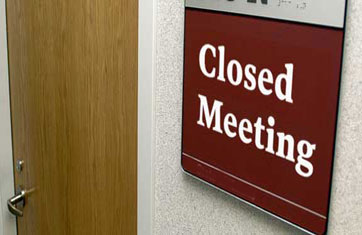 Union executives gave a presentation to state officials on each concession they would like to receive from the Governor's negotiating team. Union negotiators may enjoy a unique advantage in the secret talks because of the union's prominent role in financing the Governor's election campaign.
Outside the meeting, union negotiators shared what they are seeking to achieve in the series of closed-door talks.
One union member, Patricia Loving of Local 313, expressed the hope that, "we come out with a stronger contract than before," noting that state workers are "hard working, and that we are looking for our cost-of-living increase, and better working conditions for all our workers." Such a contract would "benefit the public," she added, because it would help the state "retain and keep qualified and skilled employees."
Another union representative, Kate Rogers, a lead tech at the Department of Transportation, said Governor Inslee's early announcement in favor of granting a general pay raise, "warmed my heart" because "we are long overdue."
Union representative Ken Blair of Local 53 said, "We provide valuable services, and those services come with a price, and the price that the state has been paying has been undercut for a very long time." He described how state collection of child support payments would be stopped or delayed if a successful agreement is not reached.
Union negotiators forcefully expressed the view that the public should pay more to provide them with higher pay and more benefits. Union representatives indicated Governor Inslee and the legislature are being unfair in the wages they approved in the current budget, noting several times they think the new contract should provide fair wages.
None of the team members, however, shared how much they are being paid now, or described the value of the pension and health benefits they receive now.
Government records show that many state employees make more money and receive better benefits than the taxpayers who provide the money for the collective bargaining agreement. In addition, thousands of Washington residents are unemployed – their family income is zero – yet they pay taxes to fund those who enjoy the security of a state job.
The secret talks will conclude with a multi-million dollar agreement that the Governor will send to the legislature for funding. Elected lawmakers are not allowed to propose amendments or changes, or to sit in on the negotiations, or to review copies of what each side proposes.
The closed-door sessions are scheduled to resume June 4th, in the 5th floor conference room of the Davis-Williams Building, 906 Columbia Street, Olympia.
Future meetings are planned for June 5th, June 24th, June 25th, August 6th, August 19th, August 20th, September 2nd and September 3rd. No public record is kept, and participants have been notified that all meetings will be closed to journalists, lawmakers and the general public.