Seattle educators seek to open charter school for homeless children
Educators at First Place School have applied to open a public charter school in Seattle under Washington's voter-approved charter school law. In November 2012, Washington became the 42nd state to authorize the popular independent public schools.
For 25 years First Place educators have worked with the Seattle School District to educate children who have suffered from poverty, trauma and homelessness. First Place teachers are skilled at reaching out to these deeply hurt, very poor children; children who have difficulty fitting into traditional public school programs. The school plans to offer classes from kindergarten through fifth grade to 154 needy children.
Board Vice President Daniel Seydel presented First Place's proposal to the State Charter School Commission at a public forum held Thursday in West Seattle. First Place teacher Uti Cleveland then described the school's team of case workers, mental health counselors and support staff who help her interact with and educate traumatized children.
Many people from the Seattle community came to testify in support of First Place School. One boy, Tibet, was asked why he liked First Place School. He quietly and deliberately said, "I like my teacher, Ms. Reed. She knows a lot."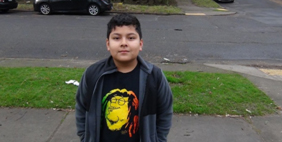 Possible charter school student: "I like my teacher."
Tibet's confidence shows the difference a good teacher and a good school can make in the life of a child. Ms. Reed teaches 4th, 5th and 6th grade students at First Place. She and the academic team that supports her know how to reach vulnerable kids, to bring their learning to grade level and beyond, so these children can be prepared to succeed in school and in life.
First Place Schools charter school application has garnered broad local support, including endorsements from State Representative Eric Pettigrew (D-Seattle), former State Representative Dawn Mason (D-Seattle), former Congressman and current president of Antioch University Brian Baird, Boys and Girls Club of King County Rotary Branch, Catholic Housing Services of Western Washington, NU Black Arts West Theatre, and Seattle University's Social Work Program. (See pages 118-130, accessible here.)
The goal of charter schools is to make sure Tibet and children like him benefit from the kindness, safety and learning Ms. Reed, Ms. Cleveland and other caring teachers provide at schools like First Place. They provide a secure environment to kids for whom the world can be a very scary and dangerous place.
The Charter School Commission will announce the list of approved charter schools at the end of this month.
This report is part of WPC's I-1240 Follow-Up Project.