New Puget Sound Partnership Director Faces Big Challenge
Today, Governor Inslee announced the appointment of Sheida Sahandy as the new Executive Director of the Puget Sound Partnership. Sahandy comes from the City of Bellevue and PSP Chair Martha Kongsgaard noted that while in Bellevue, Sahandy "created the City's first suite of environmental indicators and targets." This is similar to the PSP's approach of using "Vital Signs," with targets for 2020.
Sahandy will soon find that PSP is far from meeting those targets. More than six years after it was created, of the Partnership's 21 "vital signs," only five have improved.
Herring stocks and orca populations have declined. Both marine and freshwater quality have actually declined.
For example, here is the PSP's own metric of progress on marine water quality.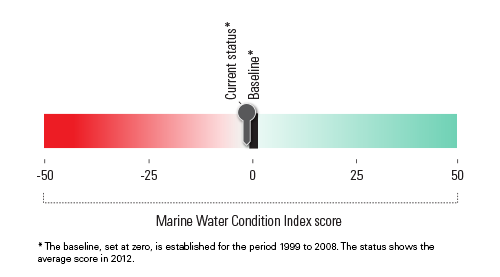 According to the PSP's own metric, we have actually lost ground in one of the most fundamental area of its responsibility. At its core, the Puget Sound Partnership is designed to improve water quality. For it to be failing at that most central goal demonstrates real problems.
Even those areas where there has been progress, like in the health of swimming beaches, they are not on track to achieve the 2020 target.
Time will tell if the new Director can turn things around, but she inherits a tough challenge.