King County Metro officials reduce some planned bus route cuts but voters won't know which routes are affected unless Prop 1 fails
Washington Policy Center broke news in mid-March about Metro's record-breaking revenues and future revenue windfalls. Metro officials soon followed up by releasing their new plans to reduce some of their planned bus cuts, saying that "improved sales tax will allow Metro to reduce the proposed package of cuts. Transit planners are finalizing the revised list of reductions."
It's a good thing Metro officials are pulling back on their plans to cut some bus service. It's what Washington Policy Center has been saying all along: that Metro officials should use better management of their rising revenues to keep bus service on the road. Metro officials' prior plan included 74 routes that are at risk of deletion, and 104 routes that would be modified or restructured.
However, Metro officials followed the good news by saying: "the proposed revisions will be submitted following the vote so they can be considered by the Council."
In other words, Metro officials won't release their plan to reduce bus cuts until after the vote and only if it fails.
Many people have been led to believe their neighborhood bus route would be cut if a $60 car tab fee and a sales tax increase are not approved. The public read the nightmarish headlines and saw charts that visualized their route being cut.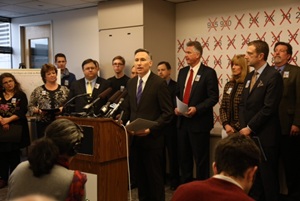 But according to Metro's announcement, many peoples' bus routes may be OK even if voters reject the tax increases. Providing updated information is vital to voters trying to determine if Proposition 1 serves their financial and transportation needs.
Update: The King County Council held a committee briefing on April 15th to answer these questions. You can find more information here.