How Washington state lost its waiver from the federal education law, No Child Left Behind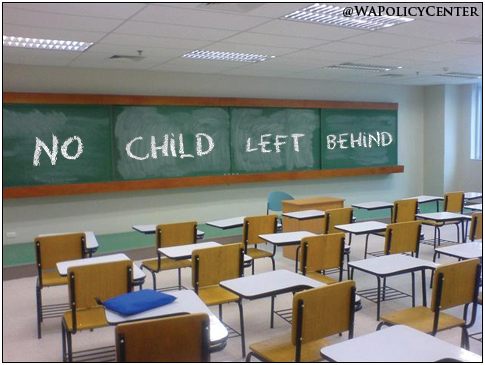 Washington state is the first state in the nation to lose its waiver from federal No Child Left Behind (NCLB) rules. Thirty-five other states will see their NCLB waivers expire this summer, and of these, 29 states have already submitted extension requests to the U.S. Department of Education.
In order to persuade these 35 states that losing their waivers will be more painful than accepting new mandates, U.S. Secretary of Education Arne Duncan is not likely to be favorably inclined to efforts from Washington state to avoid the consequences of losing its waiver. What happens now in Washington state has become of national interest.
How did this happen? Here is an outline of the dates and decisions that cost Washington state its NCLB waiver.
Background
No Child Left Behind, passed by Congress in 2001, requires school districts receiving federal Title I funding, funds intended to improve the academic achievement of disadvantaged children, to test all students in reading and math in grades 3 through 8 and once again in high school. Students are also tested in science in grades 5, 8 and once in high school, and in writing in grades 4, 7 and 10.
In 2013-14, the federal government provided Washington's schools $985 million in various grants, including $210 million in Title I funds, bringing the total revenue for schools, from all local, state and federal sources, to $10.9 billion, or $10,700 per student.
NCLB requires schools receiving Title I funds to make steady progress, called Adequate Yearly Progress (AYP), towards preparing nearly 100% of students to pass these tests by 2014. If schools fail to make this progress, districts must send parents a Public School Choice letter informing them that federal money is available to provide their child with transportation to a better school or that free tutoring is available from private and public school tutors. NCLB requires school districts receiving Title I, Part A dollars to set aside 20% of their funding for these purposes, currently about $40 million statewide.
Although No Child Left Behind was due for reauthorization in 2007, Congress could not reach agreement on its terms.
In 2009, the U.S. Department of Education launched the Race to the Top competition, offering states $75 million to $700 million for meeting new school mandates.
Timeline:
September 23, 2011 U.S. Secretary of Education Arne Duncan, announces plans to offer states waivers from NCLB provisions. "Rather than dictating educational decisions from Washington, we want state and local educators to decide how to best meet the individual needs of students," Duncan said.
February 27, 2012 The state Office of Superintendent of Public Instruction asks the U.S. Department of Education for a waiver from NCLB requirements in exchange for adopting Race to the Top requirements, which includes a new set of national learning standards, the Common Core State Standards, a new national test, called the Smarter Balanced Assessment, changes to the state's School Achievement Index, standardized teacher/principal evaluations, and plans to turn around struggling schools.
July 26, 2012 The U.S. Department of Education approves Washington state's application for a waiver from NCLB rules for school years 2012-13 and 2013-14. No Child Left Behind rules are suspended, affecting 1,538 students, who lost free transportation to a better school, and 16,972 students, who lost their free tutor. See this report for 2011-12.
August 14, 2013 The U.S. Department of Education tells state Superintendent of Public Instruction that to extend its waiver, Washington must also pass legislation to make student scores on state tests one of multiple measures for evaluating teachers.
January 2014 Washington's 2014 Legislative Session convenes. The state Senate introduces SB 5246 to require use of student scores on the state test in teacher evaluations. Initially Senate Democrats supported this measure, as reported here.
February 18, 2014 SB 5246 appears set to pass, until Senator Rosemary McAuliffe (D-Bothell), Ranking Member of the Senate Education Committee, perhaps based on the opposition of her ally, the state teachers union (the Washington Education Association), announces she had reversed her position on the bill. Senate Democrats pull their support, and SB 5246 fails to pass. With this vote, Washington state lost this opportunity to keep its NCLB waiver.
April 24, 2014 The U.S. Department of Education officially notifies Washington it has revoked its waiver from NCLB. Washington returns to NCLB rules.
June 30, 2014 State Superintendent Randy Dorn announces he's asked the U.S. Department of Education for permission not to send parents the Public School Choice letter to inform them of their rights to free transportation to a better school, claiming that under NCLB, nearly all schools are not making the required progress, so therefore parents cannot identify a better school for their child. Superintendent Dorn also worries that informing parents their schools are not making adequate progress will hurt efforts to convince voters to approve local levy funding for schools.
July—mid-August 2014 The U.S. Department of Education will decide whether or not to allow Superintendent Dorn to deny parents in Washington access to information so they can get free transportation to a better school or free tutoring for their children.
Once again, parents and children in Washington state sit on the sidelines while powerful education interests decide how their education money will be spent and which educational opportunities will be made available to them.
Note: This week the Seattle Times reports that Seattle Public Schools has applied directly to the U.S. Department of Education for an NCLB waiver. Even though Seattle Public Schools received a record revenue increase of $51 million for its 2014-15 operating budget of $689 million, the district does not want parents to get access to the $2 million NCLB provides for transportation to better schools or free tutoring for their children.