Funding for TVW repairs and upgrades cut from capital budget
In just a few weeks the country will be celebrating "Sunshine Week," a time committed to celebrating the people's right to know about what their government is doing. Recent developments in Olympia, however, may put a damper on those celebrations.
While neither the House's or Senate's original supplemental capital budgets included requested funding to repair and upgrade TVW's equipment that enables it to provide coverage of the Legislature, the Senate did add the funding to its version sent over to the House after hearing testimony from TVW about the urgency of the situation.
The House, however, took a different approach despite also being urged by TVW to address the "crisis."
Testifying before the House Capital Budget Committee on February 27 about the urgent need for repairing and upgrading its equipment was TVW's President Greg Lane. Here is his testimony:
Thank you Mr. Chair, members of the Committee, my name is Greg Lane. I'm the President of TVW but I'm here this morning on behalf of really all the citizens you represent because their access to the process is really endanger. You all know that for the vast majority of folks, they can't come to Olympia to see these proceedings take place in person. Public access for them is about being able to watch video. Whether it's live or archived. Whether they watch it on television or watch it on the web through TVW or on the legislative website, it's that video that keeps them connected, that keeps them informed to what's going on and they're watching like never before.

TVW managed 5 million individual streams of video in the year of 2013 alone. That's a tenfold increase from the number of streams we managed just five years ago. People are accessing it. They want to watch the video.

But the reality is the video equipment on this capitol campus is failing. It is 20 years old; it's tremendously old and outdated technology. We can't get parts even to fix things that do break. When these cameras fail they are gone and they are failing. This session alone we've lost the ability to cover public meetings in rooms here in the O'Brien building, over in the Cherberg building and this isn't hyperbole it's reality. As cameras continue to fail we'll lose the ability to cover more rooms.

The project to replace this equipment has been on the table for a few years but frankly it really has reached a point of crisis. I understand there is a lot of needs. There are many more needs and requests than you could ever fulfill but frankly that's the point. As you deliberate and debate these issues and defend your decisions, it's important that the citizens you represent, the taxpayer dollars that you're spending of their money, that those citizens have access to be able to see that process take place.

The rate the cameras are failing, further delay of this project means that committee hearing rooms like this will be going dark and the doors to this process will be closing on the vast majority of citizens out there. I think that's just a backwards step to open and transparent government.

Late yesterday the Senate Ways and Means Committee added this project into their list for their supplemental capital budget that they're moving through their process and we would just ask and respectfully really encourage and urge you to add it into your plan before it moves forward. Thank you.
Not only did the House committee not act on TVW's request, the supplemental capital budget adopted yesterday by the House removed the funding the Senate added to its version.
With just a week to go in session to decide this issue, the question for citizens is will TVW coverage of Olympia next year look like this?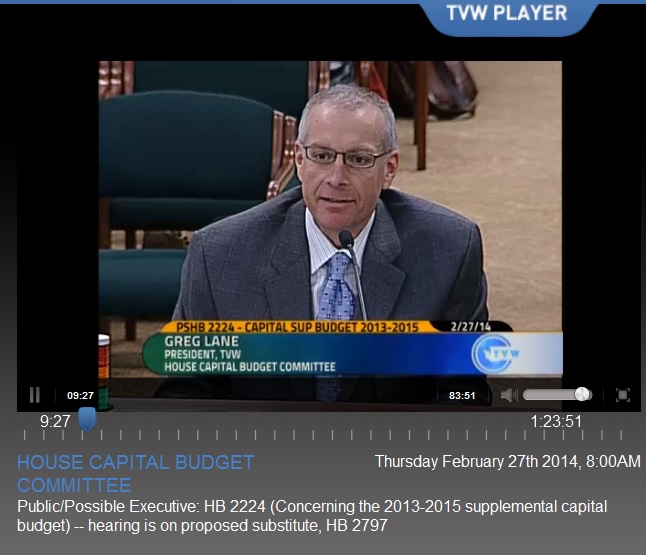 Or this?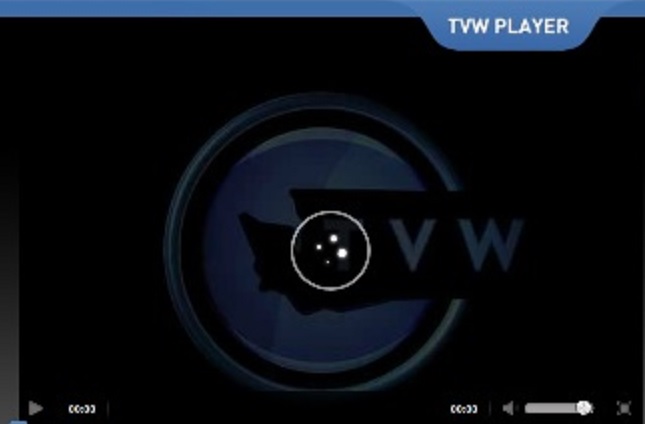 Additional Information
TVW testimony before Senate Ways & Means Committee (2/25/14)
TVW to lawmakers: Don't let us go dark (Columbian)