The American Public's Opinion of ObamaCare
As reported by the Galen Institute, the AM&A, Resurgent Republic 1st Anniversary Survey of Likely Voters revealed the American public had considerable pessimism about the impact of ObamaCare. The country now has two years of experience with the law. The non-partisan Congressional Budget Office has increased the estimated cost of the legislation from the original $940 billion to a new ten year cost of $1.76 trillion. Unless taxes are raised to unacceptable levels, ObamaCare will definitely add to the federal deficit and national debt.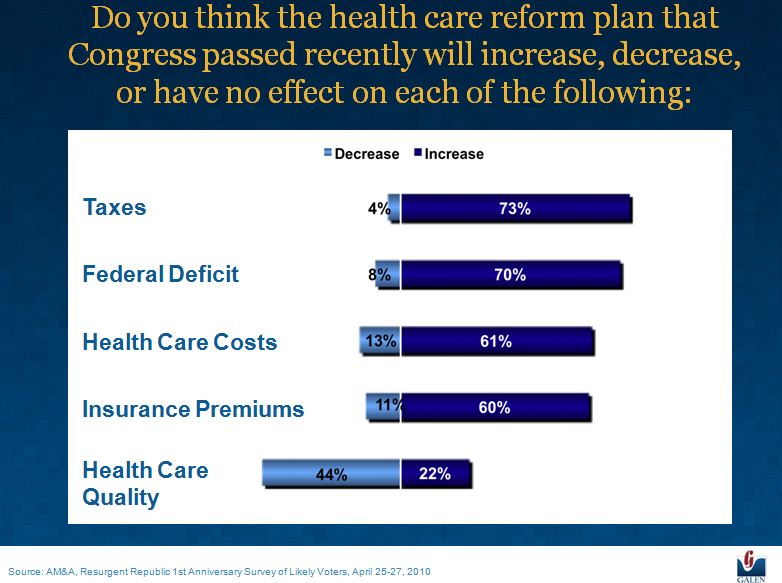 Source: Grace-Marie Turner's September 12th presentation to the Association of Washington Business.
The chief Medicare and Medicaid actuary now estimates that national expenditures on health care will rise from 18 percent of our economy to 21 percent of our economy in 2020. Health insurance companies estimate an annual increase in premiums of 7 to 10 percent.
ObamaCare will make health care access even more difficult for our Medicaid and Medicare patients. This will in no way improve health care quality.
Nancy Pelosi, then Speaker of the House, stated "we have to pass the legislation to find out what's in it." The American public is definitely finding out what's in ObamaCare and they can not be pleased with the future direction of health care in the United States. Repeal of ObamaCare is the first step to meaningful reform of our health care system.